Cara Chatting Lewat Web
Pernah suatu saat di Lab kampus, selesai asisten main2 dengan kompi presentasi yang tersambung dengan internet. Awalnya asyik browsing, nah pas kebetulan pengen chat pakek Yahoo, nah kok g ada yahoo messangernya. Gak kekurangan akal, saya coba search di google dan voila inilah yg saya dapatkan, yaitu sebuah webchat dan reviewnya sebagai berikut. *sedikit saya terjemahkan*
Meebo.com adalah sebuah website untuk instant messaging dari manapun. Walaupun kamu dirumah, di kampus, bekerja, atau perjalan dalam negeri, melalui meebo.com on di komputer manapun bisa mengakses chat buddies (seperti AIM, Yahoo!, MSN, Google Talk, ICQ and Jabber) tanpa perlu mendownload ataupun membutuhkan instalasi, atau install dulu, dan semua bersifat free!
Meebo launched in September 2005 and received funding from Sequoia Capital in December 2005 and Draper Fisher Jurvetson in January 2007. Today, our users exchange over 100 million instant messages daily. We (the meebo team) are just a fun bunch of people trying to bring IM to the web!
Screenshoot bisa dilihat disini
Web meebo.com dengan beberapa pilihan chat buddy
tampilan setelah login menggunakan chat buddy Yahoo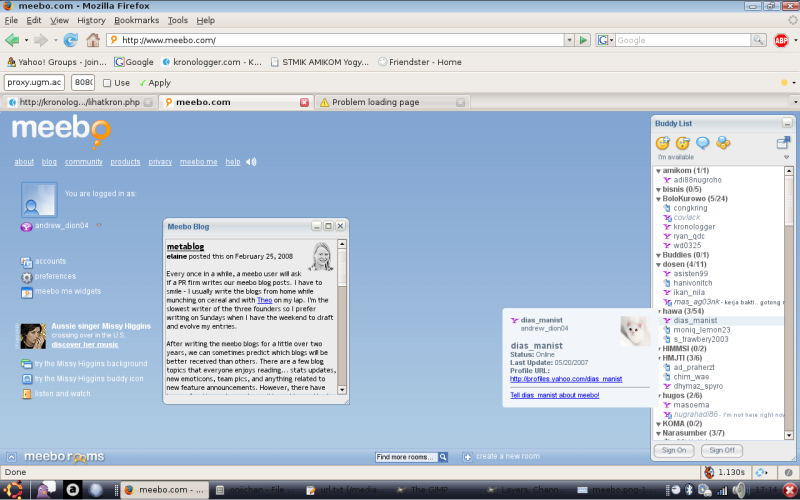 Sistem requirement
1. koneksi internet, pasti!!
2. koneksi dengan kecepatan bandwith min 4KBps.
3. browser firefox 2, atau opera 9, atau IExplore 7, atau browser Safari 2 untuk MAC OS
Selamat Mencoba!!
Komentar
komentar